This is my first blog post at an itch to cross stitch. I decided to keep my own cross stitch journal so I can keep a record of my own cross stitch progress and because I LOVE cross stitching so much anything about it is exciting,haha.

The reason I decided on creating my own journal on blogger is because I love reading about other people's cross stitching adventures and seeing everyone's work and I wanted to have my own. I am hoping that people find me on here and that they enjoy seeing my work as much as I love seeing their's.

Unfortunately there isn't enough hours in the day for me to cross stitch, there is nothing I like more than having a day of watching movies and cross stitching the day away on the couch. But a thing called 'life' gets in the way :-) which in turn has cross stitching taking second place to cleaning the house or going to work. Life in general I guess. But then I look forward to sitting down with my cross stitch at the end of the day and relaxing, as it is my favourite pasttime.

I have been cross stitching for the last eight years now and it can take me awhile to finish a pattern because there are some days that I don't get to sit down to stitch. I love cross stitching mostly anything but I have a love for anything cute, vintage and pretty. At the moment I am working on a piece called 'feather fairy' by Mirabilia and the artist is Nora Corbett (as above). It is my first mirabilia piece and I have loved working on her. I started my fairy back in July 2009 and she is getting there slowly. I recently got married to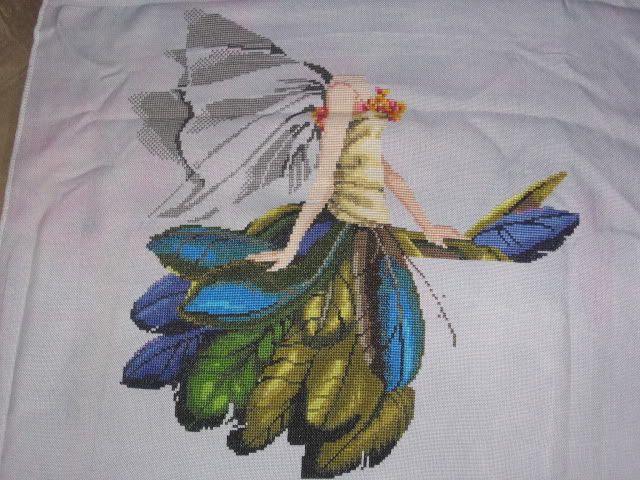 my darling husband a couple of weeks ago so with all the planning and preparation she got neglected for a bit. I am having alot of fun with her and I can't wait to get to her face and the beading. I am stitching her on 28 count hand dyed jobelan evenweave called arabian nights with DMC thread.


My biggest piece to date was a pattern called 'afternoon tea' by dimensions gold. It took me a whole 17 months to finish, so much detail but worth every bit. In this particular piece I came across new stitches which taught me a bit about cross stitch, it was a great learning curve.

My last piece before feather fairy was a holly hobbie design and it was my first time stitching on evenweave, now I have since fallen in love with it.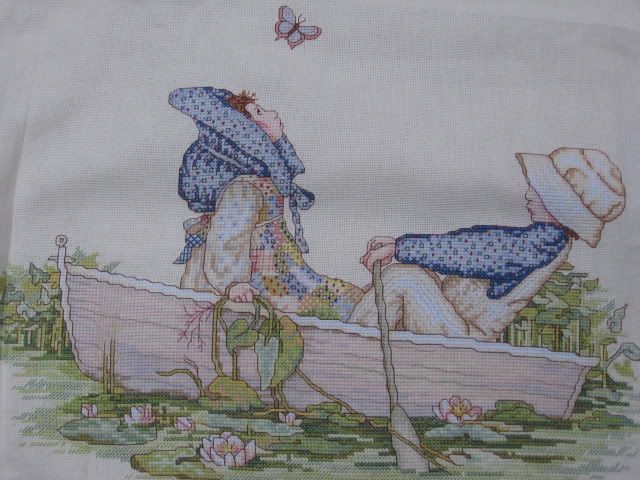 I have quite a bit of stash which I am sure every cross stitcher has aquired over the years but there is always room for more. :-)